Show Table Of Contents
Acura took the 2021 model year off, and our Volvo XC90 vs. Acura MDX page will give you the lowdown on what they've been up to for the last year. Acura has used its time wisely, and much has been improved on their flagship seven-seater. But does it actually compare to the new Volvo XC90 for sale from Volvo Cars? Sure, we might be a bit biased, but after you look at the facts, we think you'll agree that one of these SUVs doesn't hold a candle to the other.
2022 Acura MDX AWD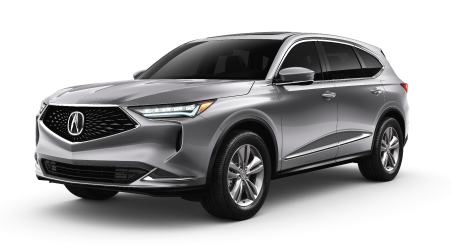 Price
Starting at $48,245
Engine
3.5 V6
Horsepower
290 hp
0-60
5.7 seconds
Torque
267 lb-ft
Towing Capacity
5000 lbs.
# Of Seats
7
Warranty & Maintenance

4 yr/50,000 mi basic, 6 yr/70,000 mi powertrain

MPG
21 / 19 / 25
Cargo Capacity
48.4 cu. ft.
Infotainment

10.25" non-touchscreen display
MP3/auxiliary input jack
2022 Volvo XC90 T6 AWD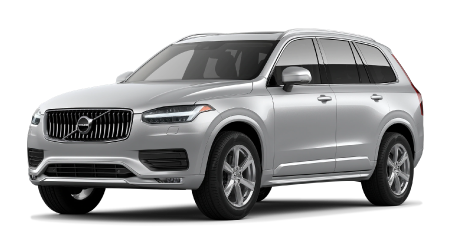 Price
Starting at $49,900
Engine
4-Cyl Turbo & Supercharger 2.0 Liter
Horsepower
316 hp
0-60
5.3 seconds
Torque
295 lb-ft
Towing Capacity
5000 lbs.
# Of Seats
7
Warranty & Maintenance

4 yr/50,000 mi basic, 4 yr/50,000 mi powertrain
Includes Factory Scheduled Maintenance: This covers the first three services (10,000 miles, 20,000 miles and 30,000 miles) at no charge.* (*3 years or up to 36,000 miles)
Complimentary four years of Volvo Roadside Assistance including lockouts, flat tire, empty fuel tank, battery jump, or tow under 25 miles.

MPG
19 / 27 / 22
Cargo Capacity
41.8 cu. ft.
Infotainment

12.3" center touchscreen
4 USB ports, 2 up front & 2 in back
---
Volvo XC90 vs. Acura MDX: A Model/Trim Spotlight
This section will compare Acura MDX and Volvo XC90 trim levels. After all, the ability to choose is one of the greatest luxuries. So let's see which vehicle gives you more options. With the Volvo XC90, you get the:
Volvo XC90 Momentum
Volvo XC90 R-Design (& Hybrid)
Volvo XC90 Inscription (& Hybrid)
Volvo XC90 Inscription Expression (& Hybrid)
Volvo XC90 Recharge EV (available later in 2022)
Let's see about the Acura MDX, which offers you the:
Acura MDX
Acura MDX Technology
Acura MDX A-Spec®
Acura MDX Advance
Acura MDX Type S
Acura offers five models for you to choose from with two glaring differences: There's no plug-in hybrid or EV option available for the Acura MDX. We find this curious since vehicles are becoming more electrified all the time. We would have to question the Acura SUVs' value and relevance. Acura MDX vs. Volvo XC90 in terms of meaningful options: point Volvo Cars. If this is all it took to help you make up your mind, go ahead and jump right to our Volvo XC90 lease deals.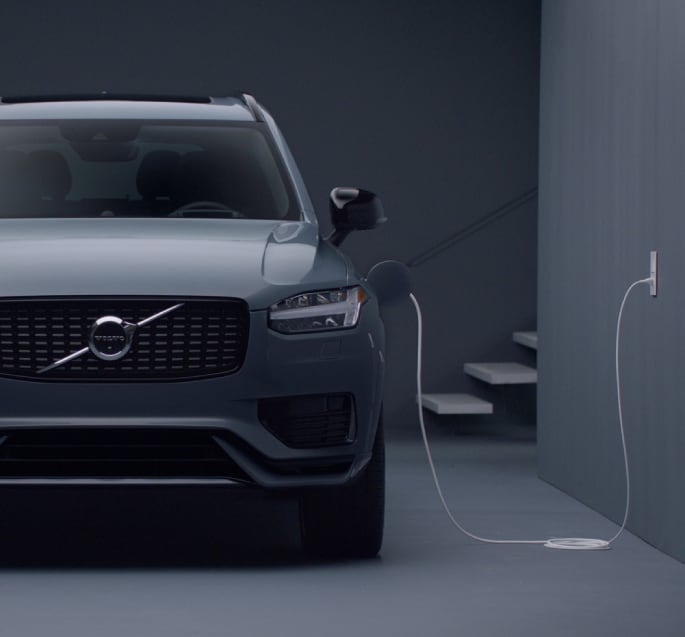 ---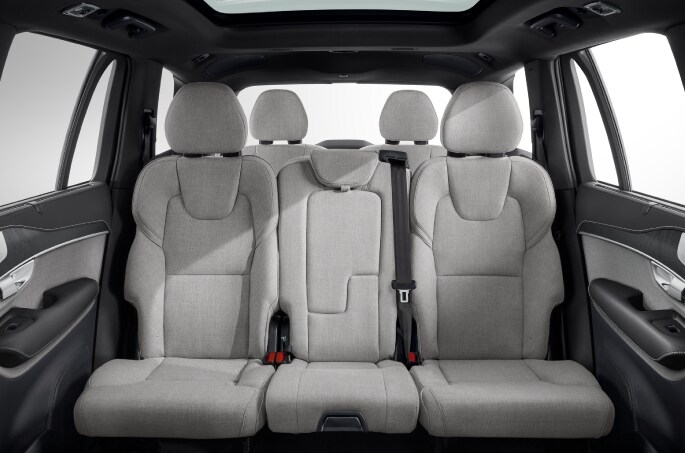 Volvo XC90 vs. Acura MDX: The Battle of Luxury SUVs
You need an SUV because you need versatility, room, and comfort. So which one of these SUVs comes out the winner in terms of sheer cargo space? The Volvo XC90 and Acura MDX cargo space figures come in nearly equal. The MDX boasts 16.3 cubic feet behind the rear bench, while the Volvo XC90 has 15.7 cubic feet. Given this difference in size, it's easy to think that the MDX would be the winner with third-row comfort. And yet Car and Driver calls the third row of the MDX a "kids-only affair." On the other hand, the Volvo XC90 is designed to accommodate fully grown adults in the third row while offering mid-row captain's seating as an available option. The MDX doesn't offer a center pass-thru.
So what about the Acura MDX vs. Volvo XC90 comparison in terms of size? Well, there's an old expression that observes it's not what you have, but rather how you use it that counts. The Acura MDX fails to impress with third-row comfort or mid-row versatility. Therefore the Acura MDX and Volvo XC90 size comparison swings toward the Volvo XC90. Point Volvo Cars.
---
Volvo XC90 vs. Acura MDX: Safety
Do the Volvo XC90 or Acura MDX safety scores shed any light on the winner in this category? If crash-test results were available for the Acura MDX, we might be able to offer an opinion. Acura steps up its game and offers Adaptive Cruise Control, blind-spot monitoring, and lane-keep assistance as standard features. So if we pair those features with previous crash-test results, we'd hope that the Acura will score well when the time comes.
Volvo Cars, on the other hand, has an incredible history of safety. So much so that safety features found in the Acura MDX are innovations that come from Volvo Cars, like side-impact door beams! Volvo Cars' contributions to the safety of other brands aside, the Volvo XC90 has current top marks from both the NHTSA and IIHS. Additionally, Volvo vehicles include semi-autonomous driving, oncoming collision mitigation, whiplash protection seating, and run-off-road protection on all trims. Acura doesn't even offer many of these safety features as an option. Volvo XC90 vs. Acura MDX, safety? Point Volvo Cars.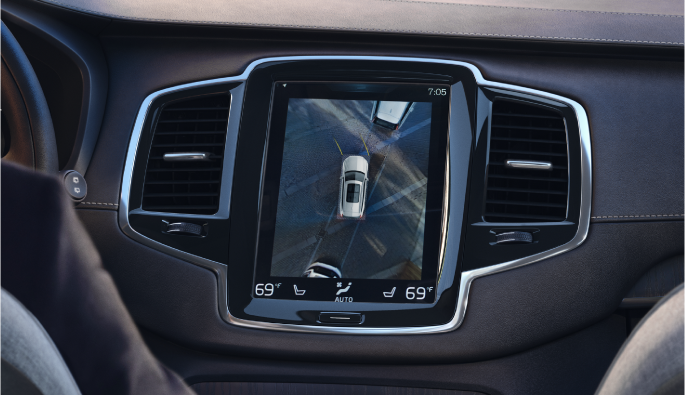 ---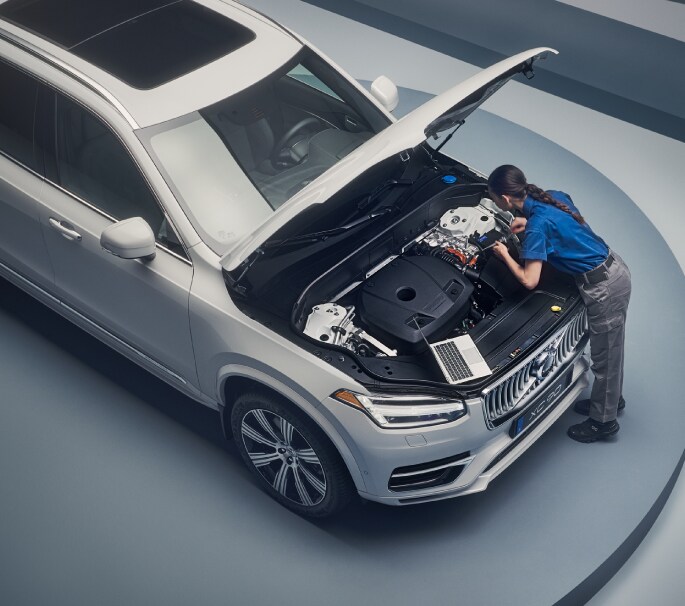 Acura MDX vs. Volvo XC90: Performance & Ownership
Acura has enhanced the powertrain of the MDX by replacing the nine-speed automatic with a new 10-speed automatic. Engine options remain unchanged, and drivers can choose from a 290-horsepower 3.5-liter V-6 or a 355-horsepower turbocharged 3.0-liter V-6. Front-wheel drive (FWD) is standard, and all-wheel drive (AWD) is available as an option.
The Volvo XC90 offers turbocharged, twin-charged, and electrified trims that give you the option of 250 horsepower, 316 horsepower, or 400 horsepower. FWD is also standard, though AWD and eAWD are found on all models with more than 316 horsepower. Volvo Cars uses the nine-speed Volvo Geartronic automatic with adjustable drive modes, including one that you can customize to your preferences.
A luxury SUV experience should also offer white-glove services. And with service, Volvo Cars comes out ahead here as well. Volvo XC90 and Acura MDX maintenance schedules are rigorous, but only Volvo Cars offers you three years/36,000 miles of complimentary service. This can save you thousands on your overall cost of ownership. Maintenance? Point Volvo Cars.
Now, if you're thinking about going with a used example of either, you might be compelled to buy an MDX as it's the luxury arm of the Honda Motor Corporation. However, trying your hand at a used Volvo XC90 for sale also comes with benefits that Acura doesn't offer, like lifetime service and repair warranties. Point? Yup.
---
Volvo XC90 vs. Acura MDX: FAQs
What safety rating did the 2022 Volvo XC90 get?
At the time of our writing, crash-test results are not available for the Volvo XC90, though we expect tradition to carry forward with her top-tier ratings.
What's new on the 2022 Volvo XC90?
One of the newest features available with the Volvo XC90 is a completely electrified model trim. This is in sync with Volvo Cars' objective to become a 100% carbon-neutral company in the very near future. For more details about the 2022 Volvo XC90 Recharge release date, please connect with a sales representative at Volvo Cars Mall of Georgia.
Which one has more cargo space, Acura MDX or Volvo XC90?
Even though the Acura MDX has slightly more room in the boot than the Volvo XC90, the third-row design may be better suited for kids. The Volvo XC90 is known for being able to seat up to seven adults comfortably and is the only SUV between the two to receive an Editor's Choice Award from Car and Driver.
Which one is more reliable, Acura MDX or Volvo XC90?
Truth be told, so much depends on ownership and service history. Admittedly, we favor the Volvo XC90 models and have certified unlimited mileage warranties to support their longevity. But it would be no stretch of the imagination to see how an Acura MDX that is gently driven to the grandkids on the weekends could potentially outlive a Volvo XC90 that is entered in a monthly "Yeehaw Tractor Pull Contest." So much is in your hands with this question, and we recommend following prescribed maintenance in your owner's manual.
Which one has more power, Acura MDX or Volvo XC90?
The SUV with the most power would be the Volvo XC90 Recharge (plug-in hybrid). With 400 horsepower, these eco-friendly models give you more with a considerably smaller engine.
How are Acura MDX and Volvo XC90 insurance rates?
Everyone's insurance quotes are different based on a variety of factors. However, if you're interested in a single payment option to handle insurance needs, ask a sales associate about a Care by Volvo quote for the new Volvo XC90. This payment includes insurance, wear and tear, maintenance, and many other surprising benefits.
Volvo XC90 vs. Acura MDX: Conclusion
We're excited to see what the 2022 Acura MDX has in store once models hit the showroom. Acura has been hard at work over the last year, and on paper, the MDX boasts many enhancements over previous models. Regardless of which SUV you choose, we firmly believe that you have to love what you drive. We encourage you to slide behind the wheel of any Volvo vehicle at our certified Volvo Cars dealership in Georgia. As far as SUVs go, the Volvo XC90 is pretty tough to walk away from. Given the comparison data on this page, why would you want to?
---
Citation: Dorian, D. (2021, June 17). 2022 Acura MDX Review, Pricing, and Specs. Retrieved September, 2021, from https://www.caranddriver.com/acura/mdx