Show Table Of Contents
It's a battle of epic proportions (well, mid-sized proportions anyway). Our Acura RDX vs. Volvo XC60 comparison page will take you through everything that many customers bring up when visiting us in our showroom. We'll go over powertrains, luxury, safety, pricing & more, so sit back, relax, and prepare to explore both Acura RDX vs. Volvo XC60 side-by-side. For the sake of simplicity, we'll be comparing the AWD models of each and note other trims where/if applicable.
2021 Acura RDX AWD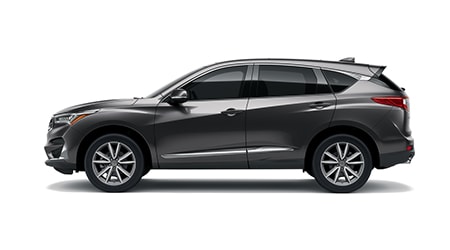 Price
Starting at $41,925
Engine
2.0L Inline-4 Turbo
Horsepower
272 hp
0-60
6.2 seconds
Torque
280 lb-ft
Towing Capacity
1500 lbs.
# Of Seats
5
Warranty & Maintenance

4 yr/50,000 mi basic, 6 yr/70,000 mi powertrain

MPG
21 / 27 / 23
Cargo Capacity
29.5 cu. ft.
Infotainment

10.25" non-touchscreen display
1 USB port up front
2021 Volvo XC60 T6 AWD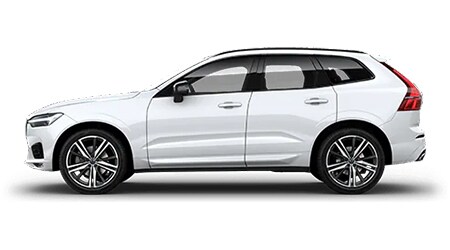 Price
Starting at $$45,095
Engine
2.0L I-4 Turocharged & Supercharged Engine
Horsepower
316 hp
0-60
6.1 seconds
Torque
295 lb-ft
Towing Capacity
3500 lbs.
# Of Seats
5
Warranty & Maintenance

4 yr/50,000 mi basic, 4 yr/50,000 mi powertrain
Includes Factory Scheduled Maintenance: This covers the first three services (10,000 miles, 20,000 miles and 30,000 miles) at no charge.* (*3 years or up to 36,000 miles)
Complimentary four years of Volvo Roadside Assistance including lockouts, flat tire, empty fuel tank, battery jump, or tow under 25 miles.

MPG
20 / 27 / 23
Cargo Capacity
29.7 cu ft.
Infotainment

9" center touchscreen
4 USB ports, 2 up front & 2 in back
---
Acura RDX vs. Volvo XC60: Brand vs. Brand
Before we jump into the models themselves, it al>ways helps to start with a frame of reference. Who are these manufacturers anyway? What are their track records? What do they promise? There's more to a car than the car itself. Much like getting married, you're also buying into your partner's family. One family will be there for you when the going gets tough. The other not so much. So choose wisely! Let's take a look at each vehicle's pedigree:
Acura is the luxury arm of the Honda Motor Corporation. Established in the early 1990s, Acura billed itself as "precision-crafted automobiles." Their logo tells the tale. No, Acura's emblem is not the letter "A." It's an engineer's micrometer used for measuring the smallest of details. See it now? The Acura brand departed from mass-market-feel and offered drivers the reliability of a Honda, with a touch of personalized technology and luxury elements. Since that time, Acura has embraced a dedicated racing program that has informed development and design across all models, including the RDX. Acura is determined to bring drivers a sporty and luxurious experience behind the wheel of any of their vehicles.


Volvo Cars has been around for over 90 years and is synonymous with the idea of automotive safety & security. Point for point, the Volvo Cars' logo is the alchemical symbol for strength — the ancient symbol for iron. With dozens of safety innovations to the brand's credit, Volvo Cars has shared its technology with the entire industry, including Acura. Most recently, Volvo Cars has committed to a bold safety initiative that no one is seriously injured or killed in a Volvo vehicle. This is no surprise, as evidenced by the extensive safety profile found in every Volvo car & SUV. Additionally, Volvo Cars aims to be carbon neutral in the near future and has already begun electrifying the entire fleet.


So there it is — the brands behind our Acura RDX vs. Volvo XC60 comparison. Next, we'll take a look at luxury since, after all, these are luxury vehicles.
Acura RDX vs. Volvo XC60: Luxury
To quote a recent review from Car & Driver, "The RDX fails to feel luxurious." The review observes needing to lean on package upgrades to enjoy a better driving experience but maintains that the Acura cannot escape its more Honda-feeling roots. Based on a variety of factors, Car & Driver rates the Acura RDX at only 6.5/10.
Alternatively, Car & Driver (C&D) reviews the Volvo XC60 and gives it a 9/10 rating. Luxury is standard with beautiful leather in every trim, and C&D cites the Volvo XC60 for its usage of "rich materials." Additionally, the new Volvo XC60 is equipped with an overhauled infotainment system powered by Google that contains connectivity favorites like navigation, apps, and Google Assistance.
There are a few essential amenities that need to be examined. The RDX does not offer massage seating, a must-have for a premium cabin experience. With respect to seating, the entry-point to the RDX gives you vinyl seating, whereas every Volvo XC60 offers premium leather. When you compare AWD trims (and we should note here that AWD is always optional on the RDX, never standard), you'll find one of the highest leather grains available on the Volvo XC60. You'll still have to upgrade a package or two to have anything remotely comparable to the Volvo XC60. The same goes for many other data points.
Acura RDX vs. Volvo XC60: Powertrains
Selecting a powertrain that suits your needs is another key aspect of a luxury vehicle experience. Acura takes a one-size-fits-all approach and gives drivers a 2.0l turbo that produces 272hp. This engine is mated to a 10-speed automatic transmission, which thankfully has two short-throw gears to aid in acceleration. You'll get to 60 mph in a respectable 6.2 seconds, but only if AWD is fitted to your RDX. The EPA estimates a 21/27 City/Highway MPG rated on the AWD RDX, and you can tow along 1,500lbs. when properly equipped.1 At this time, no hybrid RDX models exist.
The Volvo XC60 gives you 316hp from its twin-charged 2.0l T6 engine. Bolted up to the Volvo Geartronic 8-Speed automatic, you'll find 60mph in 5.4 seconds. If you opt-in to either of the Hybrid options, your 0–60 time touches 5 seconds. All of this power on the T6 AWD is all yours by trading just one City mile over the RDX with an EPA estimated 20/27 City/Highway rating.1 The Hybrid trims boost this number significantly and give you an EPA-estimated 57 MPG-e; with either 400hp or 415hp, we might add. The Volvo XC60 can tow up to 3,500lbs. when properly equipped.
Acura RDX vs. Volvo XC60: Interior
Your home away from home. Many drivers consider their cabin the most important aspect of their vehicle. Understandable, as we spend the vast majority of our time inside our cars. So how do these models stack up against each other in terms of overall space and versatility? Let's take a look at some of the key points:
The Volvo XC60 has standard whiplash preventative front seats. The RDX does not.
The Volvo XC60 offers optional rear-seat child boosters. The RDX does not.
The Volvo XC60 offers a standard panoramic glass roof that opens. The RDX does not.
The Volvo XC60 offers standard leather steering and seating. The RDX does not.
The Volvo XC60 gives you 37.8 cubic feet of cargo. The RDX offers 29.5 cubic feet.
The Volvo XC60 offers 68.8 cubic feet with the rear bench folded. The RDX gives you 58.9.
The Volvo XC60 offers a standard 12.3" digital cluster. The RDX still uses analog instruments.
The Volvo XC60 has simple center controls in the dash. The RDX has an imposing screen that obstructs visibility that works in concert with a cacophonous smattering of knobs and buttons.
The Volvo XC60 offers four USB ports, while the RDX gives you just one.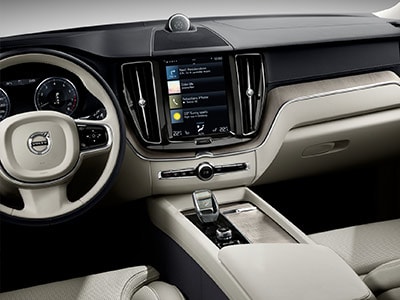 We could go on, but these are the key aspects of an interior that either make or break a driver's sense of comfort and well-being. Keep in mind that other Acura RDX competitors include the Honda CR-V, which begs the question: "How much of the RDX is actually a CR-V in disguise?"
Acura RDX vs. Volvo XC60: Safety
Both vehicles received top marks from the NHTSA in recent crash testing. Beyond that, the Volvo XC60 offers standard adaptive LED headlights, blind-spot monitoring, front and rear collision detection, front and rear collision braking, oncoming collision mitigation, run-off-road protection, lane departure warning, and lane-keep assistance.
The RDX gives you standard emergency braking, lane departure warning, and lane-keep assist. Not only is the RDX light on standard safety as compared to the Volvo XC60, but it also doesn't even offer certain safety features found on the Volvo XC60 as an option.
Do we really need to spell out the comparison here (or lack thereof)?
Acura RDX vs. Volvo XC60: Price
Acura comes out of the gate swinging with "affordability" as a buzz-word. Volvo Cars offers value. In other words, you are getting what you pay for. The RDX line's entry point starts at a little over $38k, where the Volvo XC60 starts at around $42k.2 When you look at these two vehicles, comparably equipped, including AWD, both MSRPs hover at about $48k.2 If you can even call it apples-to-apples at that point, the Volvo XC60 has substantially more power and room, and complimentary 3yr/36k miles service. Enough to cover the average lease. The RDX does not include scheduled maintenance.
Both vehicles will lease at about $400+/mo.2 So, in the end, you might wonder why the seemingly more affordable brand prices out similarly to the more luxurious Volvo XC60. Volvo Cars has taken great care to ensure that their vehicles will offer a robust spec sheet as well as after-sales service and support. Acura does not. Part of the luxury car market is all about anticipating the customer's needs. Which brand do you think sets you up for a better experience?
Acura RDX vs. Volvo XC60: FAQs
We'll take a moment here to present a consolidated set of answers to the most common questions that our showroom sales & internet department gets:
Which midsize SUV has more power? The Acura RDX AWD or the AWD Volvo XC60 T6?
The Volvo XC60 has more power than the Acura RDX. The RDX offers 272hp, while the Volvo XC60 gives you 316hp.
Which SUV has the better warranty? The Acura RDX or Volvo XC60?
The Volvo XC60 offers a 4yr/50k mile comprehensive warranty. The Acura RDX does as well, in addition to a 6yr/70k mile powertrain extension. Acura provided a CPO warranty up to 7yrs/100k miles while Volvo Cars offers up to 10yrs/Unlimited miles.
Which SUV has more towing capacity? The RDX vs. Volvo XC60?
The Volvo XC60 has more towing capacity than the Acura RDX. The Volvo XC60 offers 3,500lbs. of towing over the RDX's 1,500lbs. when properly equipped.
Acura RDX vs. Volvo XC60: Conclusions
It can certainly be a challenge to buy or lease a car. Everyone is telling you that their cat is the cuddliest & cutest, so who do you believe? In the end, buying a vehicle is a highly personal decision, and almost secondarily a financial one. In terms of the Acura RDX vs. Volvo XC60, you'll simply have to see which one grabs you. It's love at first sight. Lightning in a bottle, if you will.
Fortunately for us, the connection is mythical and undeniable — with the supernatural forces of lightning and thunder infused into every Volvo car. Take a look at our headlamps. Do you think those sideways LED strips look like an illuminated hammer? Well, that's intentional. And it's designed to depict Thor's hammer, according to our design engineers.
With all of the facts and insight laid out before you, which vehicle would you choose? Our sales specialists are standing by to bring the Volvo XC60 of your choosing right to your door if necessary to help you make your decision. When you line these SUVs up side by side and look at comparable AWD models, pricing is just about the same. So with that in mind, which brand goes above and beyond with other essentials to make your life better? We think we've put the hammer down on that answer, too.
1Values are EPA estimates only. Your results will vary.
2Prices shown are suggested retail prices only and do not include taxes, license or destination and handling charge. Any vehicle accessory costs, labor and installation vary. Dealers set their own prices. Please consult your selected dealer.