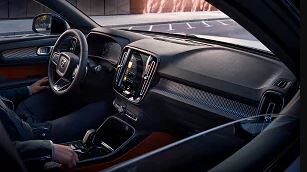 ​
On the Volvo Cars of Mall of Georgia blog we've dedicated the last few posts to talking about the upcoming and all-new 2019 Volvo XC40. This crossover is ready to take on the millennial market and help usher in a new generation of Volvo shoppers who'll one day buy a larger Volvo XC90 or stately Volvo S90 sedan.
In the previous posts we talked the Care by Volvo program and the new high-end Inscription trim that will be available for the crossover. This week we want to highlight the estimated fuel ratings that have been approved by the EPA.
With the T5 all-wheel drive engine, expect ratings of 23 mpg in the city, 31 mpg on the highway, and a combined total of 26 mpg*.
These numbers put the XC40 far ahead of the Audi Q3 and close to the Mercedes-Benz GLA250 and BMW X1. Initially, only the T5 engine with 248 horsepower will be available, but in the coming months they'll be a less expensive version with 185 horsepower. We expect the fuel ratings to be different, but regardless of which one you choose you won't cringe when taking the XC40 to the pump.
For more information on this new model, give us a call at 888-471-7056. You can also RSVP to our Lunch & Learn that's taking place on April 12th from 11am-3pm.
*Estimated fuel ratings may vary depending on driving conditions and how you maintain your Volvo